The second #AzureGov meetup was held in Reston on March 15th. It was well attended ( see picture below of Todd presenting to the audience. Standing next to Todd is Karina Homme – Principal Program Manager for AzureGov  and co-organizer of the meetup )
This meetup was kicked off by Todd Neison from NOAA. Todd gave an excellent presentation on his group's journey into #Azure. Starting with the decision to  move to the cloud, challenges in getting the necessary approvals and focusing on  #PaaS. Todd's perspective on adopting the cloud as a federal government employee can be very valuable to anyone looking to move  to the cloud.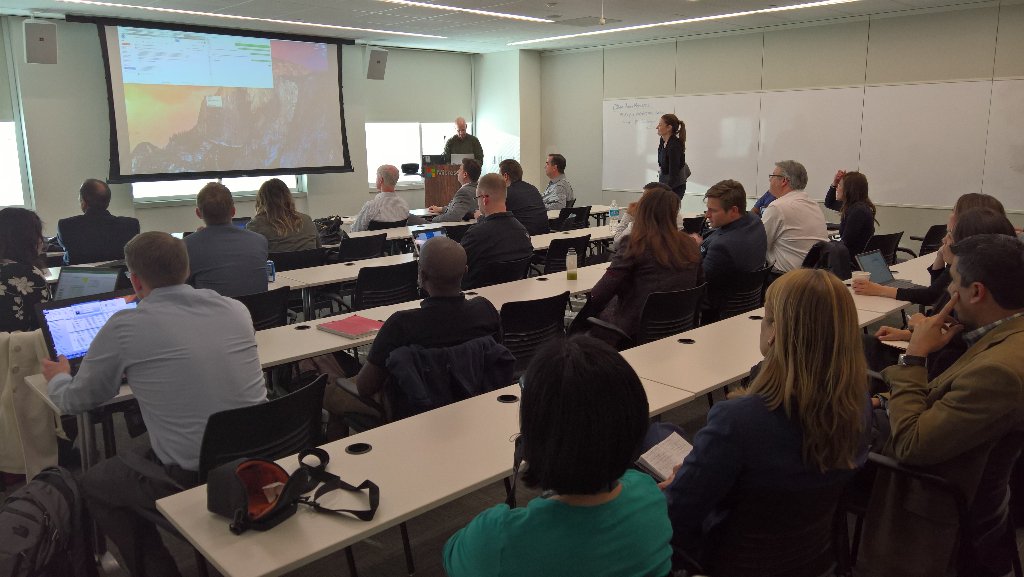 The next segment was presented by Matt Rathbun. Matt reviewed the recent news on #AzureGov compliance including  i) Microsoft cloud for the government has been invited to participate in a pilot for High Impact Baseline and expects to get  a provisional ATO by the end of the month ii) Microsoft has also finalized the requirements to meet DISA Impact Level 4 iii) Microsoft is establishing two new physically isolated Azure Government regions for DoD and DISA Impact Level 5.
You can read more about the announcements here.  What stood out for me was the idea of fast track compliance that is designed to speed up the compliance from the current annual certification cadence.
The final segment was presented by the Redhat team and Andrew Weiss from Microsoft.  They demonstrated the #OpenShift PaaS offering running on Azure. OpenShift is a container based application development platform that can be deployed to Azure or on-premises. As part of the presentation, they took an ASP.NET core 1.0 based  web application and hosted it on the OpenShift platform.  Next they scaled up the web application using Openshift and underlying Kubernestis container cluster manager.
Hope you can join us for the next meeting. Please register with the meetup here to be notified of the upcoming meetings.